Scope of various M. Pharm courses In India is discussed here in detail .The average salary after M. Pharm for fresher is around 20 thousand. Starting Salary range is 15 to  50 thousand per month. In India scope of M. Pharm is good with right institute and right skill set.
M.Pharmacy is a two years Masters course done after B. Pharm.  First we will see scope of Master of Pharmacy according to subjects, then according to areas of work. We will touch some other aspects also. So make sure to read the complete post.
we updated this post in 2019 to give M. Pharm scope for year 2019 and 2020.

Scope of 

M. Pharm 

In Various Subjects
Pharmacology
Scope after M. Pharm Pharmacology subject has good scope in all working fields. This is evergreen subject. In industry you get good salary. Pharmacology Command highest of salary. One Can work in Pharma consultancy, Drug research, Pharma market research companies, patents or clinical trials, drug regulatory affairs and Pharmacovigilance.  Consultancy and Research based jobs are more rewarding. Career growth is good with Master of Pharmacy degree in pharmacology.
Salary after M. Pharm in Pharmacology: Starting salary is 25 thousand per month to 50 thousand per month, Depending on reputation of M. pharmacy institute and company. High salaries of 30 to 40 thousand are generally offered to students of top institutes during campus placement.
 Medicinal Chemistry
One of the favoured subject for M. pharma if research or analysis interests you. Good scope of medicinal chemistry exist in research, pharmacovigilance, quality control/ analysis fields.  Good demand in teaching.  Career growth prospects are good. During medicinal Chemistry M.pharm you should focus on synthesis of active molecules, developing and testing new molecules for targets and activity, and analytical chemistry part. Because without these you will not have any edge over Bsc and Msc candidate. If research and analysis is not your cup of tea and operations interests you then go for pharmaceutics.
Salary after M. Pharm in Medicinal Chemistry: Starting salaries with medicinal chemistry subject, in pharmaceutical companies range from 20 thousand to 45 thousand per month .
 Pharmaceutics
If you are interested in production field this is the subject you should choose. Lesser  starting salary.  But with experience you can get into good companies.  Master of Pharmacy Degree In pharmaceutics has scope in formulations research, manufacturing, drug regulatory affairs.  There are many jobs for this subject but in start you may have to work on low salary. Career growth vary from slow to moderate.
Salary after M. Pharm in Pharmaceutics: Starting salaries with pharmaceutics as M. Pharm subject range from 15 thousand to 30 thousand per month.
 Pharmacognosy
Lets see scope of Natural product and pharmacognocy. Natural products is slightly different than pharmacognosy. Teaching field has some demand. In companies Number of Jobs in specialised filed of natural products or pharmacognosy are limited.  However you can get in related fields.
A good institute could get you in labs of good companies like Dabur, zandu and Himalaya. If you are graduating for top colleges like Hamdard and Niper, field of pharmaceutical analysis and quality control is also open for you.  If your project from top institute involves chemistry you can get job in chemistry based research too. Also to widen scope you can do certificate courses of analysis, WIPO and clinical trial.
However pharmacognosy  from a  poor institute could hardly  land you a good job in analysis, pharma research  or chemistry research. You may first get  inside  a small herbal company to gather experience and progress.
Salary after M.Pharm in Natural Products: Starting salaries with Pharmacognosy or natural Products as M. Pharma subject range from 12 thousand to 30 thousand per month
 Pharmacovigilance
NIPER offer this course. Job opportunities are in metro cities mostly. Good scope once you get placement.   Career growth is good in pharmacovigilance and data research companies, provided that individual and company is performing well.
Salary after MS pharm in Pharmacovigilance: 20 thousand rupees per month to 40 thousand per month per month
Biotechnology Or Microbiology
Some pharma companies are biotech based. Biotechnology and microbiology research in focus for them. For those  M.pharma in biotechology and microbiology are  suitable. This M. Pharm Degree is offered by few like NIPER. Mainstream pharma companies are also involved in related research. However  these courses should be done only from some reputed institutes like NIPER.
Starting Salary after M.Pharm in Biotechnology: Starting salary will range from 20 thousand per month to 35 thousand rupees per month.
 Hospital Pharmacy
Ms pharma of m pharma in hospital pharmacy is suitable only if you are interested to work in retail pharmacy or clinical trials. Good scope in clinical trials field if you do this course from reputed institute.
Salary after M. Pharma in Hospital Pharmacy: Starting salary range from 15 to 25 thousand per month.
Common Options After M. Pharm
Any stream of the above can get you in medical device, regulatory affairs , data research and patents field. For patent do the certificate course of WIPO while doing M. pharma. Similarly you can do certificate courses for regulatory affairs and medical devices and increase your placement chances. Also any stream will allow to work you in production because you do B.pharma before M. pharma. So after doing m.pharma in any subject you can try with production in small company, but pharmaceutics have significant edge for production.
Below is the indicative image for M Pharm Scope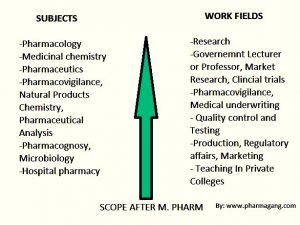 Scope of M. Pharm In Various Fields
Teaching 
Scope of M.pharm in teaching is good only in government sector universities, that too after PhD. Private colleges teaching has no bright scope generally. Future career progression is not bright in private colleges. Work pressure is a bit high in most private colleges.
Salary in teaching after M. Pharm:  Realistic Starting salary for M.pharma in private colleges teaching is 15000 to 35000. 35000 salary is given by few honest institutes. Pharmacology teacher get comparable higher salary in private sector. In government sector salaries are good after PhD, more than 70000, but job vacancies  in government teaching are few.
Research
Scope of M.pharm in research involve drug discovery, formulations research, bio-availability  , clinical research and bio-safety studies etc. Traditional Research that involves discovery of new drugs, new drug targets, new mechanism. formulations or delivery systems. Scope is always good for deserving candidates. Work pressure is moderate as you mostly work in R&D of well established companies. Future scope is good for deserving in India as well as foreign countries.  work Location is mostly capital cities of states.
Salary In Research after M. Pharm:  Starting salary can range from about 25 thousand to upto 40 thousand rupees. After experience and good performance there is good scope and more salary in foreign countries.
Emerging Fields 
M.Pharm scope in Consultancy, Market research, clinical trials, pharmacovogilance have emerged, these  are good salary payers after year 2000. Market Data research fild predict the demand and supply trends, pharmacovigilance involves safety studies after launch of drug in the market. Consultancies are specialized in providing Pharma companies with professional advises to improve there performance.
These field pay good starting salary and good career growth for the deserving. These fields provide opportunity to work with reputed data analysis MNC companies. Top institute, knowledge, related skill set and reference all matters in getting job in these companies. M .pharma or MS pharm from pharmacovigilance, pharmacology subjects  have the edge. However if you have good knowledge of the pharmacology, right skill set in clinical trials and MS office, any M.S pharma subject will land you with job. Job Location is generally in and around metro cities of Delhi NCR ,  Bangalore, Hyderabad and  Mumbai.
Starting salary: Starting salary generally range from 20 thousand rupees per month to 40 thousand  per month.
 Quality Control
Quality assurance and adherence to guidelines is mandatory for industry. A diploma in quality control after m.pharma or m.pharma in pharmaceutical analysis provides edge to get placement and increase scope. Growth prospects are moderate. Location varies from small companies and  towns to MNC's in cities.
Starting salary In quality Control after m. Pharm: Starting salary in testing, analysis and quality control generally range from 15 thousand rupees per month to 30 thousand per month.
Production 
Pharma manufacturing Industry provide lower salary in small company but in future you can get into bigger companies. Future M.pharm Scope in production is better than teaching and regulatory affairs if you are talented, enhance your skills and take your opportunities. In production target to become a approved chemist. You will get good salaries after that. Work pressure is supposed to be high in many small companies with long working hours in some of them. Job location could vary from industrial locations in small towns to big cities.
Salary in Production after M. Pharm:  Small companies gives only 12000 to 15000 starting salary. Bigger companies provide more than 20 thousand per month.
 Regulatory affairs
Starting is similar to production. In regulatory affairs you are involved in preparing dossiers for exporting drugs into foreign countries. Scope is better than teaching. You can pursue courses like law and other courses related to your work to enhance skills and future opportunities. Work pressure varies with the regulatory requirements of company fro time to time. Job location could vary from industrial locations in small towns to big cities.
Salary in regulatory affairs after M.pharm:  Small companies gives only 12000 to 15000 starting salary. Bigger companies provide more than 20 thousand per month
Medical Devices Industry
Scope is somewhat lower than general pharmaceutical  production because number of companies is limited. You can get good salry if you become approved chemist in few years. Work pressure is high. Job location is  industrial locations in small towns or big cities.
Salary in Medical Devices industry after M.pharm: Mostly Companies gives only 12000 to 17000 starting salary.
 Government Sector
There are generally no specific jobs for masters degree. After pharmacy graduation i.e b.pharma you can go for drug inspector and pharmacists posts. You can also give various common graduation based exams like SSC and UPSC.  However in states where pharmacist cadre exists, masters degree help in quicker promotion.
Salary in government sector: Drug inspector draw starting salary from 50 to 65 thousand range . Pharmacist salary vary state to state, quite low in some, but in central government, railways, ESIC hospitals and some states like Delhi starting salary in about 45000 which become more than 55 thousand after two years probation.
Rest of careers like marketing, Government jobs opportunities own company , medical store etc are similar to b.pharma. read.
Higher Education
You can go for PHD, PHD in subjects like pharmacology, medicinal chemistry will get good salary in research field. Also you can become professor in government colleges. PHD has good scope in foreign countries for research. Many M.pharma qualify GRE, Toefl etc and go to foreign countries for other higher education. Management from good institute is also a very good option.
 Other Fields 
Scope Of M.pharm in rest of careers like marketing, Government jobs opportunities, starting own company , medical store etc are similar to b.pharma. read Scope Of B.pharm here
M. Pharm vs M.S  pharm
Most universities and colleges in India provide m.pharma degree or master in pharmacy degree. NIPER provide M.S pharm or Master of Science in pharma degree.   NIPER is topmost university in india. The MS Pharma degree is valid outside india. Where Ms degrees are only valid like USA. So if you target to work in foreign countries MS is the better option. In India too M.S pharm from NIPER has better reputation. However M. Pharma from other top universities like BITS Pilani , Jamia Hamdard etc will also provide you good career in India. Also higher education opportunities in many countries are still open for M. pharma.
Other Masters Courses After B. Pharm
Post graduate diplomas in  IPR, clinical trials and quality control; Law and pharma management  are some options after bachelor of pharmacy. Diplomas are placement oriented, enhance skill set and boost chance to be employed in specific industry.   Diplomas can be done after B. Pharma  or  M. Pharma. We will discuss scope of pharma management in other post soon.
Tips For Getting Good Job Early
Do certificate courses and highlight in your resume.  Like patent , clinical trials,  regulatory affairs or if you want to target analysis, research go for  courses in HPLC etc. Improve communication.
Final words
Scope after Master of Pharmacy finally depends on three things: institute reputation, Individual skills, subject of specialization. First two matters the most.
You may also like:
Top Colleges For M. Pharm In India