Add to favorites
Supreme Court on 5 march 2020 has declared that Pharmacy council Of India (PCI) Acts Will prevail over AICTE in pharmacy education. Court ask to remove reference to pharmacy as technical education under AICTE act. So now pharmacy colleges legally require only PCI approval.
Introduction
The case was filed by pharmacy colleges who face dual regulation of AICTE and PCI. Where AICTE allow some things and PCI refuse the same, leading to obscure legal environment for pharmacy education. Colleges won the cases in lower courts but PCI filed petition in supreme court and won the case.
Recently allowing evening shifts in pharmacy colleges and increasing admission strength by AICTE was bone of contention between regulatory bodies, PCI rejected these developments.
Supreme Court Order
Supreme court ruled that where there is existence of specific regulatory body, like in medicine, nursing, architecture etc. no other body such as AICTE is required there. It refuted AICTE claim that PCI can only regulate diploma course.
As per order Pharmacy Act will prevail over AICTE Act. Here is the detailed supreme court order.
Download Supreme court order on PCI and AICTE approval as PDF here.
AICTE Repsonse 
AICTE in response to this court order has issued communication for pharmacy colleges.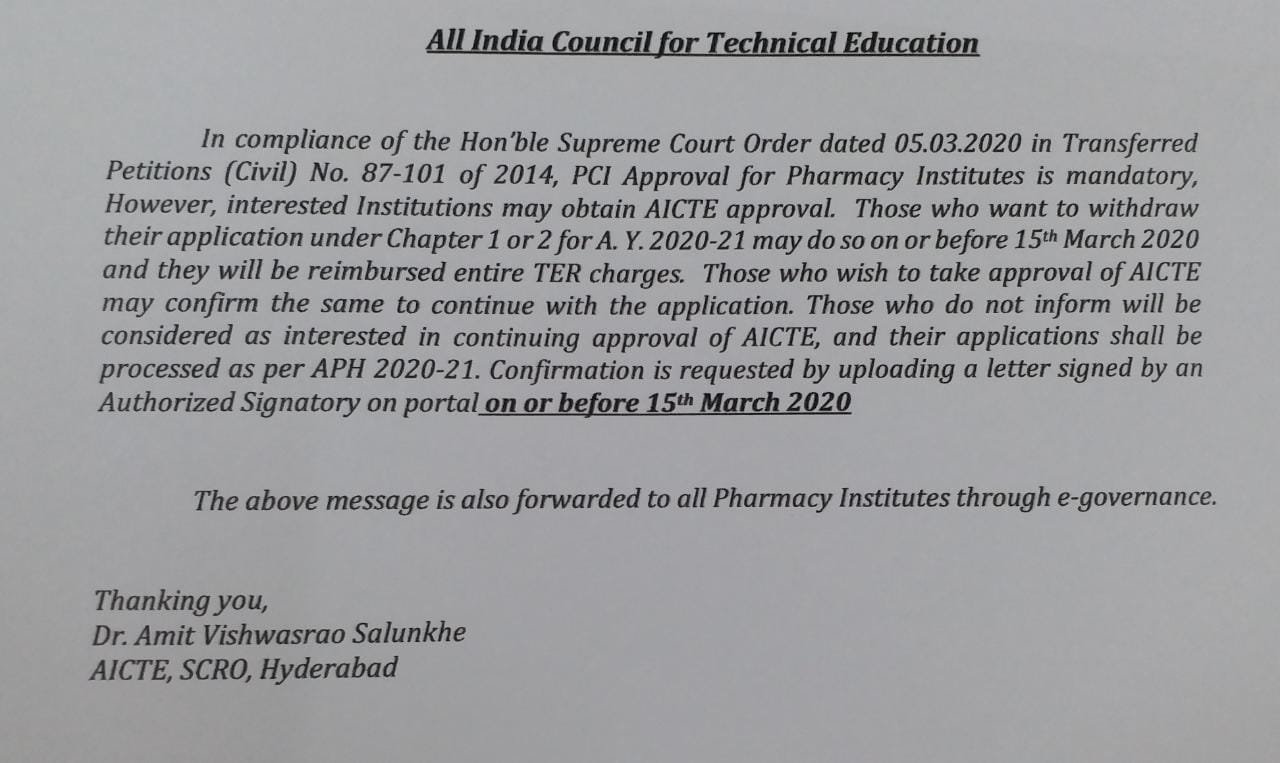 To give effect to his order AICTE will remove reference to pharmacy as technical education from AICTE Act.
Impact Of Supreme Court Order
This order has far reaching consequences as PCI become powerful body regulating the pharmacy education. If this position is utilized properly PCI can get pharmacy status it deserve. Below are in brief discussing impact of this order.
Now Pharmacy Council Of india is accepted as sole authority for regulating not only diploma but all levels of pharmacy education. PCI will regulate D. Pharm, B. Pharm, Pharm D, M. Pharm and Ph. D Programs.
Earlier PCI had sole authority on D. Pharma only. So it did not take initiatives to upgrade the minimum pharmacy education, which caused degeneration of pharmacy profession. It is hoped as PCI has now sole authority over higher education as well, it can soon upgrade the pharmacy education standards to modern times.
Currently institutes take AICTE approval first and apply for PCI later. PCI mostly had to oblige later. Now from the beginning PCI will be in better position to control standard of education ( If it intend to).                            .
Scholarships for higher education in pharmacy field will now be channeled through PCI.
This order will save time and energy of regulatory body, entire focus being on pharmacy regulation rather than fighting with AICTE.
You May Also Like:
Pharmacy Not An Technical Education Under AICTE ?
Pharmacist Recruitment Rules Delhi Government, B. Pharm Is Minimum Eligibility