Add to favorites
Schedule M of drugs and cosmetics rules define the GMP requirements for pharmaceutical industry in India. It defines Good Manufacturing Practice requirements for Allopathic medicines. 
The ministry of health has decided to revise Schedule M of the Drugs and Cosmetics Rules of 1945 to make it on par with the World Health Organisation good manufacturing practice (WHO-GMP) standards.
Schedule M has following parts: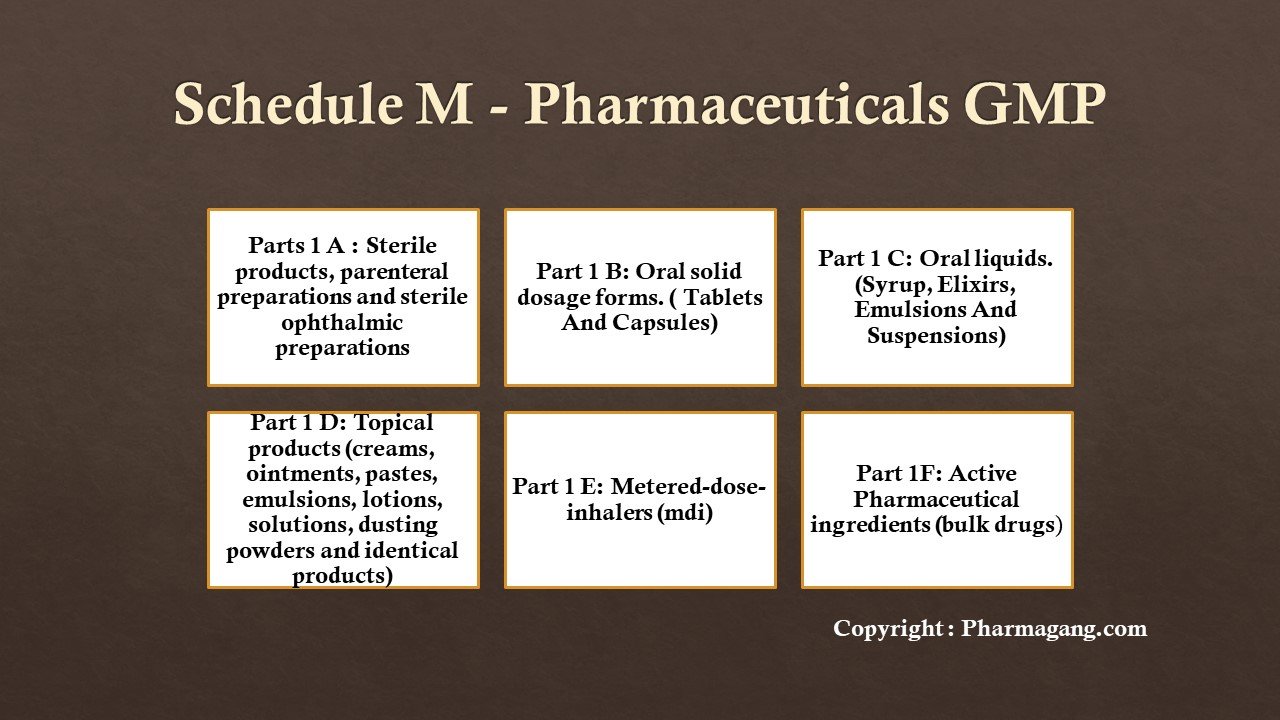 Part 1: Good manufacturing Practice For Premises And Materials
Part IA: Specific Requirements For Manufacture Of Sterile Products, Parenteral Preparations (Small Volume Injectables And Large Volume Parenterals) And Sterile Ophthalmic Preparations.
Part IB: Specific Requirements For Manufacture Of Oral Solid Dosage Forms (Tablets And Capsules)
Part IC: Specific Requirements For Manufacture Of Oral Liquids (Syrups, Elixirs, Emulsions And Suspensions)
Part ID: Specific Requirements For Manufacture Of Topical Products , I.E. External Preparations (Creams, Ointments, Pastes, Emulsions, Lotions, Solutions, Dusting Powders And Identical Products)
Part 1E: Specific Requirements For Manufacture Of Metered-Dose-Inhalers (MDI)
Part 1F: Specific Requirements Of Premises, Plant And Materials For Manufacture Of Active Pharmaceutial Ingredients (Bulk Drugs)
Part II: Requirements Of Plant And Equipment
You can view and download schedule M pdf below.
Download Schedule M pdf: Download Schedule M GMP Pdf
Schedule M1, Schedule M2 and M3 are different from Schedule M.
Visit Here To see Difference between Schedule M, M1, M2,  And M3 Of Drugs And Cosmetics Act
You should note that Schedule M, M1, M2, M3 define good manufacturing practice for India. If your target market is India then they would suffice.
However if target market is USA and  Europe then pharmaceutical Industry need to follow the USFDA cGMP and ICH Guidelines. US FDA first makes an inspection and then only approve the particular plant to manufacture drugs and export drugs to the USA. 
Similarly if target market is mostly developing countries then WHO GMP guidelines are followed in most of them.
You May Also Like:
Difference Between Schedule M, M1, M2, M3 GMP, Drugs & Cosmetics Act